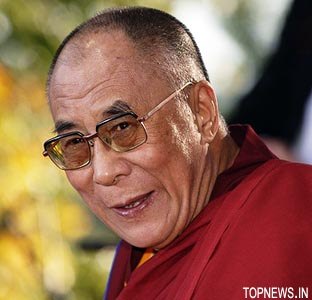 I have a twitter account, well in fact I got it to promote my little business. A friend of mine has told me that her sales went through the roof when she got her twitter account. I do know this to be true as I spent the time at one point helping her to fill an order and was pretty impressed and fed up with it all. Impressed 'cos wow she got a large order through Twitter and fed up 'cos I was the one who had to help her fill the order, tinged with a little envy if I am being really honest. She isn't the only friend to have told me this, a few friends with their own businesses have told me the same.
I am a firm believer that if enough people you trust and respect are signing from the same hymn sheet and if you truly know that they have your best interest at heart you really should prick up your ears and listen to what they have to say.
So I got me a Twitter, once I had done that I thought I would look around and see who else is there. I discovered that His Holiness The Dalai Lama has a twitter page, so I sent a massage,and now I find that I am to be followed by him.
Wow!!!!!!!!!!
Okay, so when I told the boys they said "yeah right" and "You know full well it's not HIM, but one of his staff or some such". They are never-the-less pleased for me as they realise it's a big thing for me.
Well I get that he is a busy man, but what the hell, He has more followers than He follows, so in some way I have been picked to be followed.
Now, I really am going to have to behave myself and watch my manners.
So I best be on my very very bestest, watch my "P's & Q's", behaviour.
By the way, I have been a massive "fan"...if that's the right word, of the Dalai Lama for a very long time now. I have read all his books and follow his teachings about kindness and compassion.
Not sure I would ever be a Buddhist,I doubt I would have enough willpower, determination and dedication, but I do enjoy His teachings.
So for me this is a really big thing.