My Lords, Ladies and Gentlemen,
Welcome, welcome to The Valentines Ball. We have lots to delight you with and we hope that you will have an excellent time time with us.
We hope you enjoy your time with us here at our lovely country house.
Let us show you to your rooms before the fun starts.
Just in case any of you don't like the country side views we had this room put in so that you would feel more at home, tee hee.
Look how sweet, lots of petals on the beds.
I think the maids have been messing about, I mean who needs balloons and a hot-water bottle!!!!
This one below if my personal favourite. It is completely opposite to my room at home which is actually various shades of white and cream, with a little splash of lilac.
Which is why I won't be picking either of these rooms below, as they are very much like home, only way bigger.
As you can see the maids have been very busy, so we can't really blame them if they take a break and lounge around for a while. After all, all this preparing for Valentines is bounded to make a girl want dream of her own beau.
Oh look they are all at it now. Aren't they so very sweet in their day dreams.
Come on you girls back to work. Oh it's no good I can't make these darling girls work today and keep them away from their beau's. I will ask the fairies if they will take over and give the maids the rest of the day off.
Ah! Bless her, the Love Fairy says that she will take over for the maids today.
The Love Fairy has even brought us all a little fairy dust, make sure you sprinkle it on yourselves....................liberally.
I see the Love Fairy brought her sense of humour with her and by the looks of it something for the boys.
I just need to remind you all of the power of the Fairy Dust and why you should all sprinkle it very very liberally over your selves. You see while you are here with us, we can get up to all sorts of mischief and nonsense.
For instance, fancy a ride on a carousel in Paris.........
No worries you can, just don't go around too often or you might get dizzy..........
Then there's the food, no calories, no cholesterol, no diabetes, no a moment on the lips, a life time on the hips.
You could off course always start with a reasonably healthy breakfast, but why not get Mr Right a nice juicy steak.........
all heart shaped and cute.......
Personally I'm going to sprinkle enough Fairy Dust on me to last a month or more, so I can tuck into these yummies...................
Heart shaped macaroons *slurp, slurp*.........
This isn't our normal spag bol...... it's made with a raspberries, but wait what's that..............
Chocolate.........*swoon, faint*
Sorry, where was I, Oh yes I remember calories don't count.
Don't forget to pop along to the little cake shop.
I see someone is by the lake, very romantic...........
The garden is quiet romantic as well, even the plants are in a romantic mood.........
Aren't the gardeners great they grew these little roses just for us today.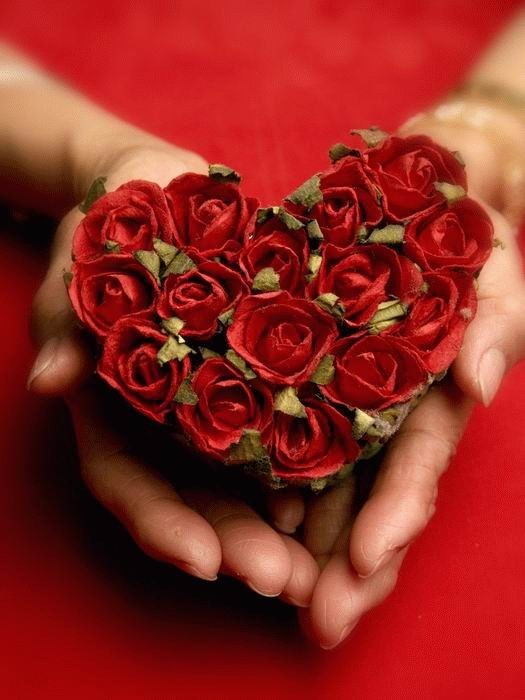 The gardeners have placed champagne around the gardens, feel free to help yourselves.
You could grab a little table together and just sit slipping champagne and whispering sweet nothings to each other.
This bench looks like a sweet smelling spot to sit with your Valentine.
Ah, look everyone even the sunset has got into a romantic mood, it must be picking up vibes from all of you and your sweet nothing whispering in the gardens.
You know what this means, come on every one time to get our glad rags on and dance the night away.......
Tonight's dress code is beautiful red ball gowns for the ladies and tuxedos for the gents.
Now I was going to ask the men to wear red tuxedos, however I was scared that they would all end up looking like this.......
and I just couldn't have any of our lovely handsome gents looking like a dog's dinner......
So I have opted for a nice selection of tuxedos that are far more refined and classic.......
And if any of you gents think you will end up looking like this.......
Don't worry you won't, just use a little extra Fairy Dust and you'll be far more handsome and desirable than any Prince Charming.....honest.
Ladies the courtiers are here with our gown selection......
Red lace how beautiful.....
I just love the way this one is tiered don't you, I bet it's very floaty......
This one is very vampish, oh la la Mrs.......
Oh which one to chose, so much choice tonight.................
Do you think that I could do the can-can in this one, now that would be a sight for sure!!!!!!
I love the splash of white on this one................
This one will actually go very well with my shoes.......
However this is the one I am going to wear tonight
Mostly because I just love the back detail.......
And here are my shoes for the evening.......................
We are all going to be such a wonderful sight in our beautiful gowns on the arms of our handsome beau's.
So it's off to dance the night away under a starlight sky............
And; a full moon...how romantic....
This is where we are going, all the way to the top....................
Where there is a Ball room set up for us..................
Remember we all learnt the Tango at my last ball, well now you can dance it in the most romantic of places...on top of the World...................
I see some of you are already in the swing of it............................
Time for some more champagne I think...................
Just remember Ladies to check you glass, you never know what might have been slipped into your glass.................
Just a couple more surprises for you.........................Romantic fireworks....
And when you get back to your rooms, look out for a little cupboard with this on the door handle..
Because inside there you will find the single most expensive sundae ever made.........
I know. It sounds crazy: $1,000 for an ice cream sundae? But, the sundae is The Grand Opulence Sundae from famed Serendipity 3 of New York City and it's made up of the best of the best.

The Golden Opulence Sundae, the "World's most expensive sundae", was created to celebrate Serendipity's 50th Anniversary last year.

Made with "5 scoops of the richest Tahitian vanilla bean ice cream infused with Madagascar vanilla and covered in 23K edible gold leaf, the sundae is drizzled with the world's most expensive chocolate, Amedei Porceleana, and covered with chunks of rare Chuao chocolate, which is from cocoa beans harvested by the Caribbean Sea on Venezuela's coast. The masterpiece is suffused with exotic candied fruits from Paris, gold dragets, truffles and Marzipan Cherries. It is topped with a tiny glass bowl of Grand Passion Caviar, an exclusive dessert caviar, made of salt-free American Golden caviar, known for its sparkling golden color. It's sweetened and infused with fresh passion fruit, orange and Armagnac. The sundae is served in a baccarat Harcourt crystal goblet with an 18K gold spoon to partake in the indulgence served with a petite mother of pearl spoon and topped with a gilded sugar flower by Ron Ben-Israel."
And, yet more champagne...should you be in need of it......
Happy Valentines Everyone........
Much Love Lia xx