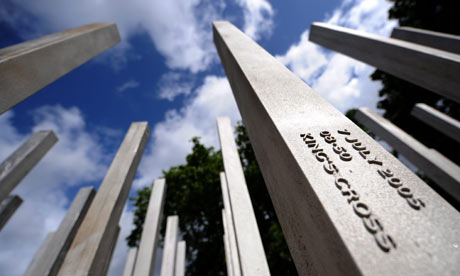 Today is the 4th anniversary of the July 7th 2005 bombings.

There will be an unveiling today of a new memorial to the 52 people who lost their lives that day and about time to.
It will be unveiled at midday, in London's Hyde Park, it will have 52 stainless steel pillars in 4 clusters, one for each victim and one cluster to represent each place where a bomb devastated lives.
There were also over 800 people injured that day, some with huge life changing injuries.

London had got up that day, to beautiful clear blue skies and was still over joyed that we had been selected for the 2012 Olympic Games, so there was hope, happiness and optimism in the air. (well a lot of Londoners were happy about this, but I can't say in all honestly that I was, but I'll save that for another post)
As over 250,000 commuters travelled across London on the tube to their various jobs, bombs began to go off, Russell Square, Aldgate and Edgeware Rd, then another one on a London double decker bus at Tavistock Square.

As always I was listening to BBC Radio London 94.9FM and Jon Gaunt was the presenter that day, the show was just ticking along nicely, in fact if I remember rightly it had not long started so Jon had barely got into his stride.

I was working at the time and was halfway round the M25 working at a place called Esher not far from Ascot race course and as usual I was working with Frances.
We had got up at our usual time of 5am, fought our way round the M25 and made it to work early. We had breakfast and then got down to the business of the day.

When Jon Gaunt reported the 1st bomb going off, I at first barely reacted, to be honest, I have grown up during the I.R.A bombings and was fairly unfazed to begin with.
It was when he reported the second one that I truly became alarmed.


Once a year, the teachers at my youngest son Callum's school take the children out for the day, to celebrate a good year at school and they do this at their own expense, which is wonderful. Callum was on a that trip that day to the centre of London and suddenly it became apparent that London was under attack.
At first, I couldn't take it in, I turned to Frances and said I was worried about Callum, he said don't panic, London is huge, it's nowhere near him. By the time of the 3rd one I was ready to leave work and have a full on panic attack.

Frances phoned Callum, no reply, I phoned the school, the lines were busy. We kept phoning lines were busy, mobile phone satellites were overloaded and the radio reported yet another bomb had gone off.
By now I was almost beside myself with fear for my youngest son, barely 13 yrs old. Finally I got through to the school, the receptionist told me that all the classes were accounted for, except 3 and Callums was one of them.
I can't even begin to put into words the terror I felt at that moment. Bombs were going off, London was under attack and I had no idea were my youngest son was.
At this point we didn't that there would be four bombs, London had no idea whether anymore would go off.

The radio was reporting the devastation all around, in the background of all the reports, I could hear sirens, what sounded like hundreds of them, as Londoners it is a sound of the city that we are use to, in fact a lot of us barely hear them now, so use to them are we. But on that day, behind all the reporters you could clearly hear them and they seemed to be coming from every direction.

I remember looking up and seeing the site manager, a very hard man, who was tough old school man, but fair to work for, as the words, "What do you mean you don't know where my son class is?" escaped my lips, I was looking directly at him. "Go girl, go find your boy, forget work, go on go" I didn't know that he too was also wondering where a member of his family was, thankfully his wife turned out to be safe. I told the school that I was on the way and could they phone or text me if possible when they had located the class.

We hit the road and made it to the M25 in record time, I remember thinking that there was a huge amount of traffic on the motorway for that time of day, we were still listening to the radio and they explained that London was emptying as fast as it could, that people needed to get out of the capital and that we were not to travel in. I had already decided that the last place I would go was into the centre, we still didn't know if more bombs would go off and I thought what good would it do to go up to town, after all I could end up hurt or worse and then who would look after my kids.

Frances had managed to get through to my other 2 kids and they were both headed for home.
Frances's mother also works in the center of London, right next to Lloyd's of London, but she had called him told him she was safe and was headed for home, she also said that his father was safe.
Various friends and family had either phoned or text to say they were safe, but we still had no idea where Callum was.

I'm not sure how I drove home that day, the motorway was busy and it took a lot to concentrate on that journey, but I knew I had to head for home. I really couldn't speak and every time a text came through my heart skipped a beat, was it him, was it the school, was he safe, was it the worst news in the World, was I dreaming and this was all a horrible figment of my over active brain. I remember thinking, what would I do if Callum was injured or worse, how would I live with the fact that I had signed the form, that had allowed him to go on that trip.

Frances told me later that there had been times during the journey home when I had repeated over and over, please keep him safe, mum please watch over him and bring him home, don't let it be Callum. Please, please don't let it be Callum.
I don't remember it.

As we came up the junction that we always come off at, the traffic had come to a grinding halt, you see it is not far from the Dartford river crossing, which is a bridge and tunnel crossing over and under the river Thames; and quite rightly the authorities were being cautious in letting vehicle over and under the Thames, it is after all the biggest crossing over the Thames. There are four lanes under it and a four lane bridge over it.

We crawled to the off ramp and finally made it to the round-about and traffic lights, my mobile phone rang and I snatched it up, to hear a voice on the other end ask me if I was Callum's mum, with my heart in my mouth, I replied yes.....He's safe, came back the words and they are on their way back to the school where we can come to wait and then take them home.

It was at this point that I lost it, I remember shaking and hot tears rolling down my face and handing the phone to Frances, as a wave of relief and emotion washed over me.

He was safe.... the greatest words ever said to me. This quiet, calm female voice, giving me the greatest most profound words I have ever heard,..........He's safe.
We drove to the school with a lot less urgency and listening to the radio, by now reports of the dead were coming through and I am ashamed to say that I was greatly relieved that none of the dead would be one of mine.

We waited at the school and as he strolled up to me in that nonchalant manner of a teenager, I so wanted to scoop him up and cuddle him, He sensed this and gave me the look...you know the one, it says, please do not embarrass me in front of my friends.
When we pulled up outside the house, the front door flew open and the look of relief on the faces of the older two kids was clearly visible.
I remember feeling unbelievably safe and secure as I closed our front door to the outside World and the horror of London, for a while afterwards we all stood cuddled up in the hallway, just so grateful that we had all made it through intact.

To be honest, this is actually the first time I have ever talked openly July 7th 2005.

We were immensely lucky that day and I will never forget the full horror and range of feeling I went through that day and my son came home safe and sound. I can not begin to imagine what it must be like for the families of those who lost their lives or for those who were injured that day and still live with the injuries, the memories and the vivid horror of it all. That is why on the 7th July for the rest of my life I will honor those people with a two minute silence, as I never ever want to forget that we were the fortunate ones.